An additional allotment of tickets are now available to the Pearl Day Drive-In Concert featuring Jamey Johnson and Frank Foster on Oct. 30 at Trustmark Park. The tickets are available, online only, through Ticketmaster.
"We are super excited to still be able to have this concert," said Mayor Jake Windham. "To have this concert taking place in the fall, with much cooler weather should be awesome for our citizens. We are so appreciative of Jamey and Frank working with us to make this happen."
Tickets are all $25 and can be purchased through Ticketmaster. Each person in a vehicle must have a ticket. You will be able to view the concert from either inside or just outside your car/truck.
The concert will take place in the south lot of Trustmark Park (Sam's side) starting with Frank Foster at 7:30 p.m. and Jamey Johnson taking the stage at 9:30 p.m. The gates open at 5 p.m. The City of Pearl will be celebrating its 47th birthday after being established back in May of 1973.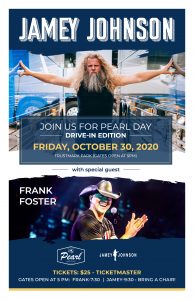 Jamey Johnson:
Eleven-time Grammy-nominated singer-songwriter Jamey Johnson is "one of the greatest country singers of our time," according to the Washington Post. He is one of only a few people in the history of country music to win two Song of the Year Awards from both the CMA and ACMs.
His 2008 album, That Lonesome Song, was certified platinum for 1 million in sales, and his 2010 ambitious double album, The Guitar Song, received a gold certification.
In addition, he won two Song of the Year Trophies, for "Give It Away" and "In Color," both from the Academy of Country Music and the Country Music Association. He has received tremendous praise from The New York Times, Rolling Stone, The Wall Street Journal and other publications, many of which have hailed his albums as masterpieces.
In 2012, the Alabama native released his fifth studio album, a tribute project to late songwriter Hank Cochran. The Grammy-nominated Living for a Song: A Tribute to Hank Cochran paired him with Willie Nelson, Alison Krauss, Emmylou Harris, Ray Price, Elvis Costello, George Strait, Vince Gill and Merle Haggard.
In 2013, the Nashville Scene's 13th annual Country Music Critics' Poll named it the year's best album. (Two years earlier, the same poll named Johnson's The Guitar Song as the year's best album, and Johnson himself as best male vocalist, best songwriter and artist of the year.)
Frank Foster:
Frank Foster embodies musical independence at its highest level. He not only has taken the road less traveled, but the road almost never traveled. Acting as his own record label, Management, booking agency and publishing company, he has managed to find success that some major label artists may never find. This rural Louisiana native and former oil field man has taken his songs from the campfire to the coliseum seemingly overnight, all the while gaining a following of fans whose loyalty is unmatched.
His musical journey started in 2011 with the release of his first album Rowdy Reputation. To follow that up, in the late summer of 2012, he released his second album, Red Wings and Six Strings. Each and every song from both of those albums have become nightly sing-alongs at his shows. Foster's next 5 albums all debuted on the Billboard Country Charts.
Southern Soul was released in 2013 debuted at No. 11.Rhythm and Whiskey was released in 2014 debuted at No. 4. His early 2016 release, Boots On The Ground, debuted at No. 7. Later in 2016, he released Good Country Music, which debuted at No.13. In 2018, he released his seventh album, 'Til I'm Gone, which debuted at #2 on the Billboard Country Album Sales Charts giving Foster his highest mark yet. He's a singer, a songwriter and his own boss. He refuses to let anyone water down his kind of country music. If he lives it, he writes it; if he writes it, he sings it; if he sings it, he believes it. Frank Foster … a true original.
###