Please take time this weekend to prepare for a potential significant ice/sleet event on Monday. Temperatures may stay below freezing Sunday night through Wednesday afternoon. Have a plan to stay home with the potential for power outages. We will keep you updated. Low temperatures Monday night into Tuesday could be in the single digits.
City Administrative Offices are closed in observance of President's Day.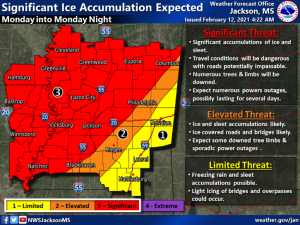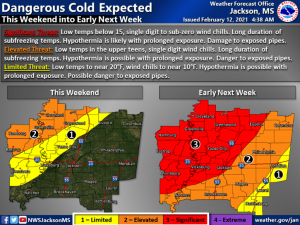 How to prepare your home for the expected prolonged freezing temperatures:
Wrap exposed water pipes, especially on mobile homes and conventional foundation houses.
Insulate doors & windows and know how to turn off your water at the meter in case you suffer a break.
Open cabinet doors in kitchens and bathrooms so the heat can get to the pipes. Also let faucets drip.
Please make plans to bring pets inside or ensure they have warm shelter.
We will keep you updated with any new information!
Stay in touch with the city through our texting services.
Receive City Alerts: Text "Pearl" to 91896.
This allows you to receive important information about emergencies, weather threats, road closures, etc… directly from the city.
Report Issues or Find Answers to Questions:
Text "Hi" or any keyword to 601-706-3177