Braves-owned club reaffirms commitment to central Mississippi
PEARL, MS — The Mississippi Braves were officially invited to continue as the Atlanta Braves Double-A affiliate in 2021 and beyond in an announcement made today by the Braves. The M-Braves, owned and operated by the Atlanta Braves, moved to Trustmark Park and Pearl in 2005, marking the end to a five-year absence of professional baseball in central Mississippi. After welcoming the three millionth fan to Trustmark Park in 2019, the M-Braves remain committed to being a vital part of this baseball rich state and community.
"On behalf of the M-Braves, we are honored to be invited to continue as the Atlanta Braves Double-A franchise," said Mississippi Braves Vice President and General Manager Pete Laven. "Since 2005, fans in central Mississippi have witnessed future major league talent on the diamond at Trustmark Park and we look forward to featuring the stars of tomorrow here in Pearl for years to come."
In 16 seasons, the M-Braves have produced 150 alumni that have played Major League Baseball, including 32 MLB All-Star Game appearances, 11 Silver Sluggers, 12 Gold Gloves, 11 World Series champs, two Rookies of the Year, an NL MVP and NL Manager of the Year. Braves first baseman Freddie Freeman made history this season by becoming the Braves' first National League MVP since Chipper Jones in 1999 and fourth overall since the club moved to Atlanta in 1966. Freeman also becomes the first M-Braves alum to claim the award. Braves manager Brian Snitker, the 2018 NL Manager of the Year, served as Mississippi's inaugural skipper in 2005.
The current Atlanta Braves 40-man roster includes 23 former M-Braves (Freeman, Charlie Morton, Dansby Swanson, Johan Camargo, Ozzie Albies, Max Fried, A.J. Minter, Sean Newcomb, Ronald Acuña Jr., Mike Soroka, Chad Sobotka, Touki Toussaint, Bryse Wilson, Alex Jackson, Jacob Webb, Austin Riley, Huascar Ynoa, Jeremy Walker, William Contreras, Cristian Pache, Ian Anderson, Patrick Weigel and Tucker Davidson).
Some of the best to ever play for the Braves have worn the Mississippi logo in rehab appearances, including Hall-of-Famers John Smoltz, Tom Glavine and Chipper Jones.
For information about the Mississippi Braves and 2021 season tickets, visit mississippibraves.com. Also, visit the Extra Innings Team Store online today and take advantage of our holiday deals for the Braves fan in your life.
About the Mississippi Braves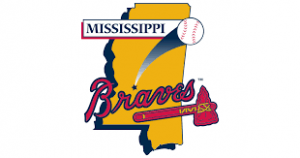 Based in Pearl, MS since 2005, the Mississippi Braves are the Double-A Southern League affiliate of the Atlanta Braves. The M-Braves are owned and operated by the Atlanta Braves, the longest continuously operated franchise in Major League Baseball.