The City of Pearl is excited to launch a concert concept called "Music at The Muse".
The City, in partnership with Hinds Community College, will launch its first concert at the Clyde Muse Center on the Rankin Campus right here in Pearl at 7 p.m. on Friday, September 16, 2022.
The show will feature The Frontmen: Tim Rushlow, formerly of Little Texas; Larry Stewart of Restless Heart and Richie McDonald, formerly of Lonestar.
There will be an opening performance by special guests Mustache The Band, "The World's Most Powerful 90's Country Party Band".
All tickets are $20 for general admission-open seating inside the Muse Center. Tickets go on sale at 10 a.m., Tuesday, July 26, online through Eventbrite. A direct link to the event is "Music at the Muse" Tickets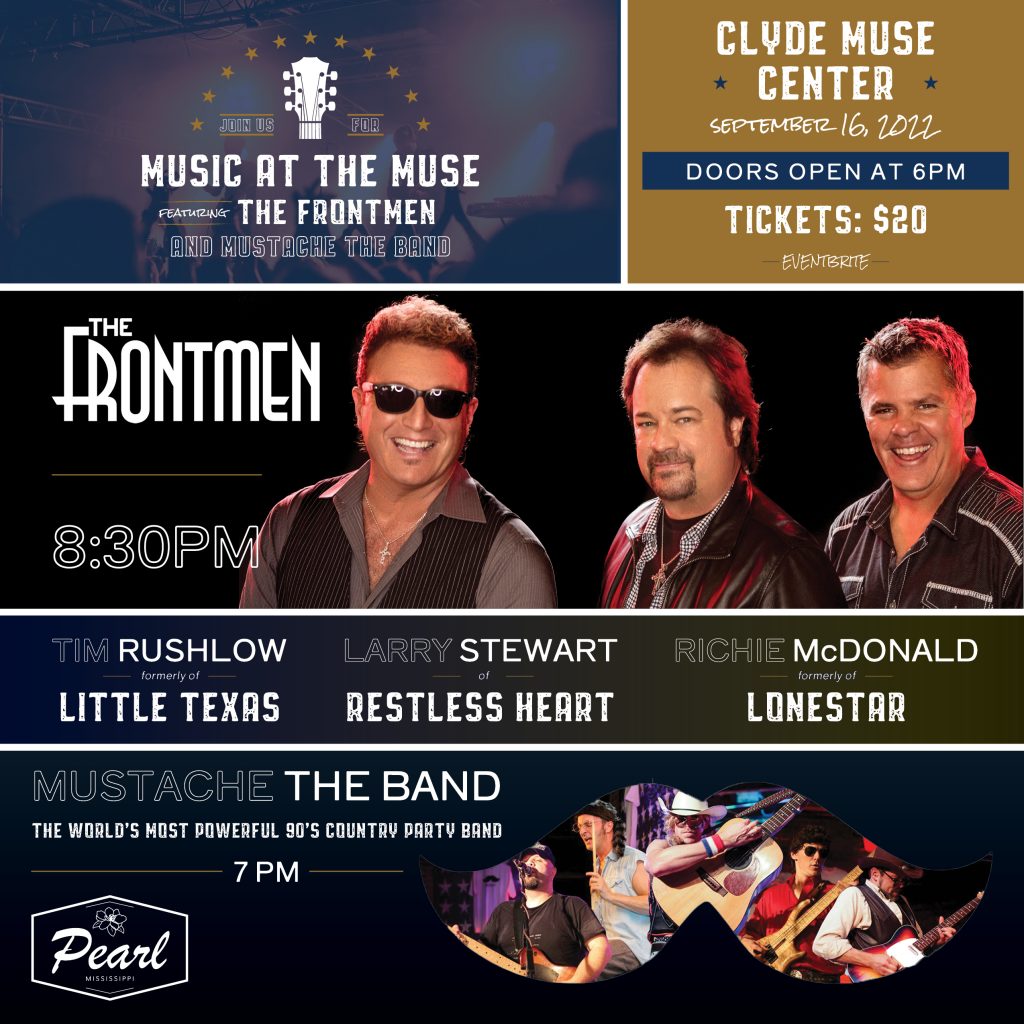 About "The Frontmen":
They have 30 No. 1 hits, have sold 30 million albums and are the soundtrack to every Friday night honkytonk first kiss and broken heart for the last 30 years. Fans sing the words to every song in every set – and while many people have yet to know their name, just about everybody can sing their songs.
THE FRONTMEN – comprised of 3 former lead singers, Larry Stewart (Restless Heart), Richie McDonald (Lonestar)and Tim Rushlow (Little Texas) – is country music's hottest new super group. The men have already mastered the stage, succeeded on radio and nightly take sold-out audiences on a rollercoaster of 90's nostalgic smash hits then transcend their past hit parade with fresh new & original songs that are unmistakably THE FRONTMEN today!
About "Mustache The Band":
Mustache The Band is the 90's Country Party Band that'll grow on you. Mustache delivers a powerful performance of all of the favorite country hits from the 1990's. With well over 125 songs under their buckles, you are guaranteed to have a non-stop party on your hands.
Mustache The Band will take you on a journey into the 90's… back when sleeveless tanks, high tops, cowboy boots, two paneled button downs, and mustaches ruled country music. In order to set the tone at every show, fans are provided with their very own mustaches to enjoy.
If the crowd is ready to get down on the farm, Mustache The Band will take them there.