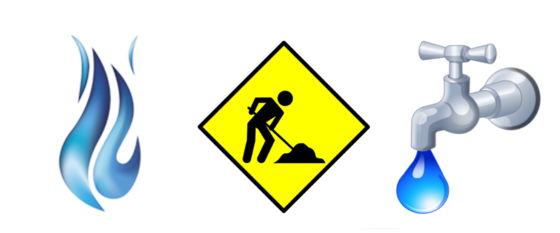 The Public Works Department is dedicated to enhancing the quality of life in Pearl by providing the highest quality of public works services, facilities and infastructure to meet the needs of the community.
Public Works is responsible for providing drinking water, as well as, collecting and dispostitioning storm water, wastewater, and solid waste. The Public Works Department is also responsible for compliance, conservation and repairing city streets and street signs.
Services Include:
Water & Sewer
Stormwater
Refuse & Trash
Street & Street Sign Repair
To report issues with your Waste Management trash collection, please call 1-800-284-2451, Option 1.
To report a water leak or street issue, please call 601-932-3520.
The City of Pearl Public Works Department works closely with the Mississippi Department of Environmental Quality and the Mississippi State Department of Health to stay in compliance with all current regulations. The following are helpful resource links for residents and businesses:
Boil Water Notices: There are no Boil Water Notices in effect in the city.
Click to view the Current Waste Management Contract
Click to view the 2021 CCR (Water Quality) Report
Click to view FINAL PUBLIC NOTICE of Pine Park Hazard Mitigation Project from FEMA
Ditching
The City of Pearl will clean out culverts and ditches when drainage of city streets is compromised. To report a problem, please call the Public Works Department at (601) 932-3520.
City Compactor
Bulky Items should be taken to the City Compactor at 201 Compactor Road.
The city also encourages you to donate unwanted items (in good condition) to one of the many local churches or charitable organizations.
Hours of Operation
M-F: 7am-4pm (closed 12-1pm for lunch)
Phone: 601-932-9222
Tires, fuel containers, flammable liquids, limbs, paint and computers MAY NOT be dumped at the Compactor station.  Rates are as follows:
Load Size
Resident
Non-Resident
Commercial
Pick-up bed
$15
$30
$50
Single Axle
(not to exceed 16ft. in length)
$20
$40
$65
Tandem Trailer
(not to exceed 24 ft. in length)
$25
$90
$80
Small 1 ton truck
$40
$90
$140
Flat bed truck with dump
$85
$170
$260
Property owners are charged a montly garbage fee. Pickup occurs twice a week. Waste Management will NOT pick up furniture, appliances, and similar household items. For issues with your garbage pickup, call Waste Management at 601-922-9647.
Tips & Guidelines You May Not Know:
Proper Management of UnderGround Oil & Fuel Tanks (Oil Change Shopes & Gas Stations):
City of Pearl Public Works Department
2418 Old Brandon Rd
Pearl, MS 39208